Handgun Skill Standards
Establish a baseline for key practical pistol shooting skills, which can be used to measure skill progression.
FREE Drill Set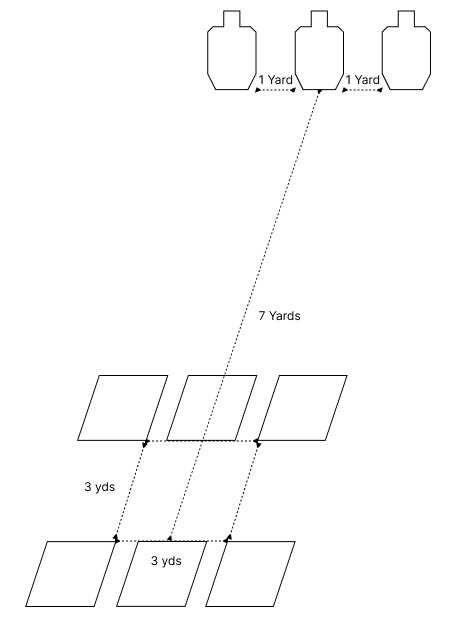 This Handgun Skill Standards drill set is intended to provide a baseline on core practical pistol skills.
We want to know our shooting skill baselines so we can measure our progress and figure out which skills should be prioritized.
I wouldn't recommend running this drill set on a recurring basis to get better, the many other drill sets are better for that. But the Handgun Skill Standards drill set nice to utilize for figuring out skill level as a shooter as well as returning to periodically to measure and recognize skill improvement.
If you want to work on training to improve skills, check out the drill sets list.
Getting a Skill Baseline
A true skill baseline doesn't involve running a drill 50 times and then picking your best time. That measures your peak "I got lucky" performance, not your true skill baseline. A baseline skill means you can consistently and repeatedly complete the drill within that timeline.
To get a live fire baseline, run each drill three times. Run the drill set in order and don't do any warmup practice. Your worst time of those three runs is your baseline.
Getting a dry fire baseline is a little trickier. Set a par time you think you can accomplish the drill in and run each drill several times. Work your par time up or down until you get something that feels about right. But since we've run the drills a bunch of time, that doesn't act as an accurate baseline. Wait a day and run the drill set again. Run each drill three times and if you can complete the drills within those par times all three times, then you've got your baseline. If par time adjustment is needed, wait another day to re-run the drill set.
It isn't difficult, nor does it take up much room, to run the vast majority of dry fire drills. A LOT of great work can be done with three targets and a clear space on the floor.
There's no need to over complicate things for an at home dry fire dojo. While a large setup can be great and allow for a lot of different things, all of the core shooting skills can be worked with a little room and minimal setup.
That's why this drill set specifically only requires three targets up on the wall.
Drill Set
Tips on Setting Up & Running a Drill Set
Drill Environment
More Drill Modifications
Modifications to focus on: Conceal Carry