Criss Cross
Improve throttle control on target transitions.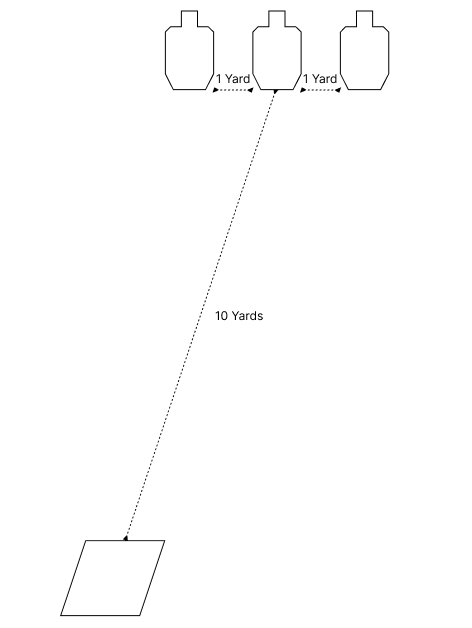 What is the Criss Cross Drill?
Criss Cross is a well rounded drill reminiscent of El Presidente. However, this drill challenges shooters with throttle control by alternating between the target body and headbox.
It can be a nice way to work a distance changeup style drill, but it's simpler to set up and requires less space.
The pattern of body, head, body and then head, body, head requires shooters to pay attention closely to their sights and shoot as fast as they can see their sights on target. If you shoot the same cadence for all shots you'll either shoot way too slow or you'll shoot too fast and miss the headboxes.
The alternating between head and body makes Criss Cross a great drill for live fire as each scoring zone can be easily scored without any wondering of which shot was with which pass.
Drill Tips
Criss Cross is like a blend of El Presidente and Distance Change up. It requires a blend of pushing speed on the body targets and reigning in for precision on the headbox targets. Both have the importance of seeing your sights and only pulling the trigger when the sights are on target. Don't pull the trigger if you don't see your sights on target.
---
---
Drill Diagnostics
If you are fumbling the reload or missing the reload, make sure you quickly look down at the magwell. A super quick glance down will greatly improve the accuracy of the mag insertion – therefore improving the speed and consistency of the reload.
Drill Author
---
Don't know what drills to run to meet your goals?
Try out a virtual training call to talk with Brian about shooting goals, training methods, and drills to best meet those goals.
Drill Environment
More Drill Modifications
Modifications to focus on: Conceal Carry