Transition Isolation
Establish and push a baseline for transition speed.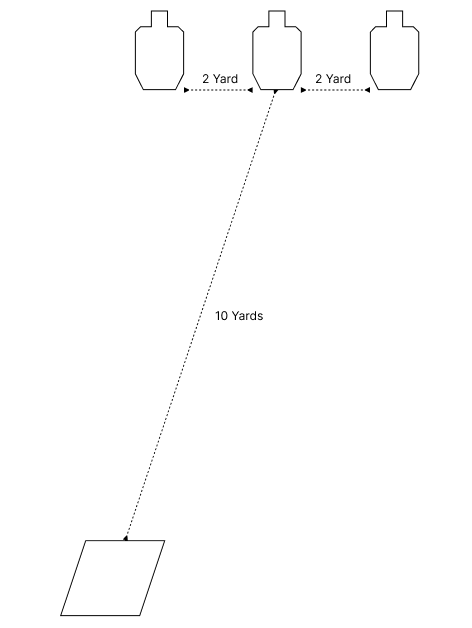 What is the Transition Isolation Drill?
Transitions are one of the most important skills any practical pistol shooter should know, be they competitive shooter or defensive shooter. Quick transitions require incredible vision speed and precise control of the gun.
Competitive shooters can improve stage times by several seconds by shaving a few tenths of a second off of each transition. Defensive shooters can engage multiple assailants quickly and without hitting bystanders with fast and controlled transitions. A good transition means the shooter has a solid index – the gun goes where the eyes look. Solid transitions mean solid foundations.
However, most shooting drills involve other elements that can easily overshadow the transition skill. Toss in a draw with a reload and those two skills can easily overshadow transitions when trying to game the drill. That's why this drill is transitions and transitions only.
If you want to focus intently on improving transitions or establish a par time baseline for your transition skill, this is a great skill isolation drill to improve transitions.
Video Explanation
---
---
Drill Tips
The key to fast transitions is to lead the gun with your eyes. This means as soon as the final shot on target breaks, move the eyes to the next target. With a good natural point of aim, the gun will follow straight to where the eyes are.
For wide target transitions in particular, move the eyes ahead of the gun, letting the gun follow. "Head, eyes, gun" is my transitions mantra.
---
---
Drill Diagnostics
Use a par timer to experiment with different transition methods. Experimentation is encouraged, and use a timer to validate technique. It is extremely easy for something to feel fast, but actually be slow on the clock. Our brain can play tricks on us with our perception of time – but par timers and shot timers don't lie.
---
---
Drill Author
---
Don't know what drills to run to meet your goals?
Try out a virtual training call to talk with Brian about shooting goals, training methods, and drills to best meet those goals.
Drill Environment
More Drill Modifications
Modifications to focus on: Conceal Carry
Further Training with: