Box to Box
Improve position to position movement.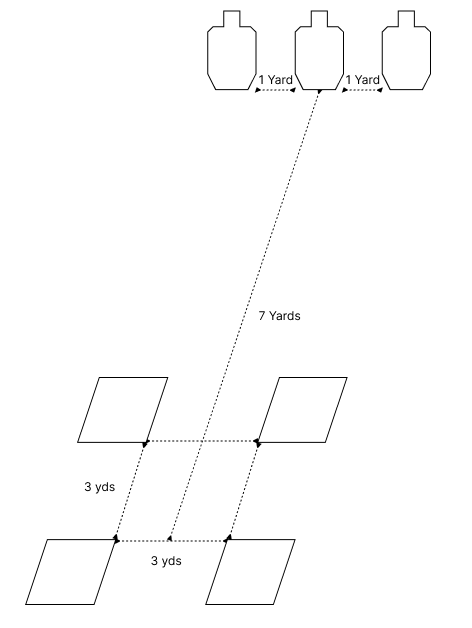 What is the Box to Box Drill?
Box to box movement is simple, easy to setup, and works a variety of practical pistol skills. The Box to Box drill's key is leaving as soon as possible on the exit and shooting as soon as possible upon entering the next position.
The Box to Box drill is quite versatile and can be modified in many ways to keep the training variety fresh and diversifying the shooting skills worked on.
This type of setup shows up in shooting competitions and these skills are easily applicable to defensive shooting.
If you shoot USPSA, there are quite a few classifiers that follow this format making it a great one to work on.
Drill Tips
Small accelerating and decelerating steps are the way to smoothly and efficiently build up speed and decelerate into position. We don't want to have leaping bounding steps as they will destabilize the sights. Large steps are good for top speed and small steps are good for acceleration and deceleration. Use small steps on entering a position to smoothly decelerate.
When entering a position, square up shoulders on where the targets will be. This rotates the shoulders and the hips and legs will follow so you're squared up on target rather than entering into position and then turning to the targets then firing.
Creep in/out of position. You don't need to be 100% set up with planted feet to engage the targets. So try engaging the targets while still getting setup on entry, and try engaging targets while beginning to leave the position. "Shoot sooner, leave sooner" as the saying goes.
---
---
Drill Diagnostics
It is important to watch for the sights while entering the position. Wait for the sights to stabilize and enter the area of acceptable accuracy. You don't need to wait for the sights to completely stop and become perfectly still on target, you just need them to enter the area of acceptable accuracy – once they do, break the shot.
---
---
---
Don't know what drills to run to meet your goals?
Try out a virtual training call to talk with Brian about shooting goals, training methods, and drills to best meet those goals.
Drill Environment
More Drill Modifications
Modifications to focus on: Conceal Carry