Fast Entries
Get ready to shoot the moment the target becomes available to get shots off sooner.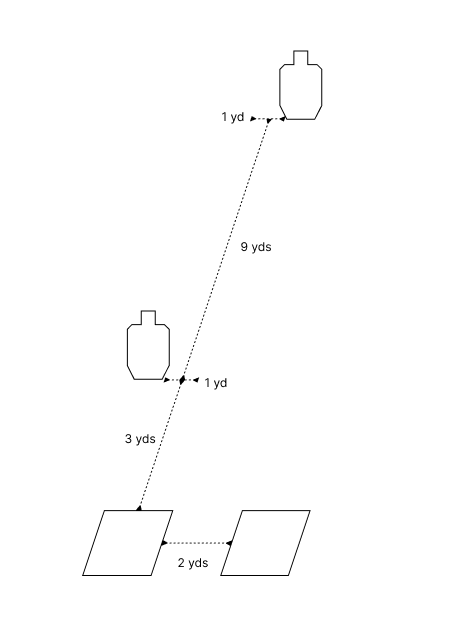 What is the Fast Entries Drill?
Engaging targets "sooner" while entering a position is a powerful skill. Instead of moving to a position, planting your feet, and then getting the gun on target – engage targets while the feet are still moving and entering into the position.
The sooner shots are put on target, the sooner the target becomes neutralized.
For this drill, the point is to move quickly into position, get the gun up, and break the shot the moment the target becomes visible.
Smoothly entering the position really helps enable shots to be taken sooner, while a rough entry will cause the sights to bounce around which creates misses or delays the time to first shot as the sights settle.
Drill Tips
The key to this drill is having the gun up and ready to shoot before the target becomes available to shoot. That way the moment the target becomes available, the gun is up and ready. The sooner the shot breaks, the quicker it becomes neutralized.
When moving longer distances, square up the shoulders and hips in the direction of movement. It's faster to move when facing the direction of movement.
Doing things "faster" tends to induce errors. Shoot faster splits, and accuracy will decrease. However, doing something "sooner" doesn't induce errors. If I can take a shot sooner, the target will get neutralized in a shorter amount of time. So the key with almost all shooting techniques is to find ways to accomplish tasks "sooner."
---
---
Drill Diagnostics
Pay attention to your sights while you're entering the position. Are they bouncing around? When you take your final step, do they bounce? A good entry still be smooth with minimal distribution to the sights.
However, stomping feet send reverberations through your body – which will jar your sights. Smooth steps are soft and quiet. If your can't hear your steps, your sights probably won't be bouncing around.
---
---
---
Don't know what drills to run to meet your goals?
Try out a virtual training call to talk with Brian about shooting goals, training methods, and drills to best meet those goals.
Drill Environment
More Drill Modifications
Modifications to focus on: Conceal Carry
Further Training with: