Drop the Phone
Practice clearing your hands while drawing your pistol.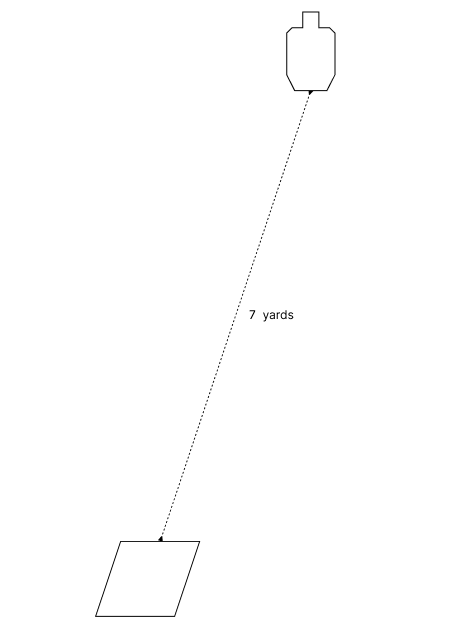 What is the Drop the Phone Drill?
When we enter a stressful situation, such as a defensive gun use, our brain almost short circuits. It gets an extremely intense focus on the threat and engaging the fight or flight response. This can result in someone drawing their gun and shooting at the threat one handed while still holding the object in their hand.
It is very much a thing where people will get through a gunfight while shooting with only one hand – which is a disadvantaged situation. This drill is simply practicing dropping something before you drop the gun.
You may laugh at the simplicity of the drill, but I have seen people set up this exact drill in class, where the purpose is to drop the thing in your hand, but still fail to drop the thing in your hand.
An old cellphone case is a great prop to use for this. An empty ammo box or any other similar shaped item works. This drill can easily be adapted for other objects as well, such as a coffee. In fact, using a variety of objects and object holding positions is encouraged.
Unless you're holding a child, nothing you're holding is worth your life. Drop it like a hot potato and get both hands on the gun.
Drill Tips
The priority in this drill is dropping whatever you're holding and getting both hands on the gun. It sounds obvious, but imprinting a sense of urgency in getting the thing out of your hand will help push your speed and get both hands on the gun sooner rather than later.
---
---
Drill Diagnostics
Do your hands go to the same spots as if you were standing in your perfect stance? Do you still get a good consistent grip on the gun? If you're clearing a cover garment, do you grab your shirt on the same consistent spot? Your draw stroke should remain the same no matter where your hands start.
---
---
---
Don't know what drills to run to meet your goals?
Try out a virtual training call to talk with Brian about shooting goals, training methods, and drills to best meet those goals.
Drill Environment
More Drill Modifications
Modifications to focus on: Conceal Carry
Further Training with: