El Presidente / El Prez
Turn and draw, clear array, reload, clear array.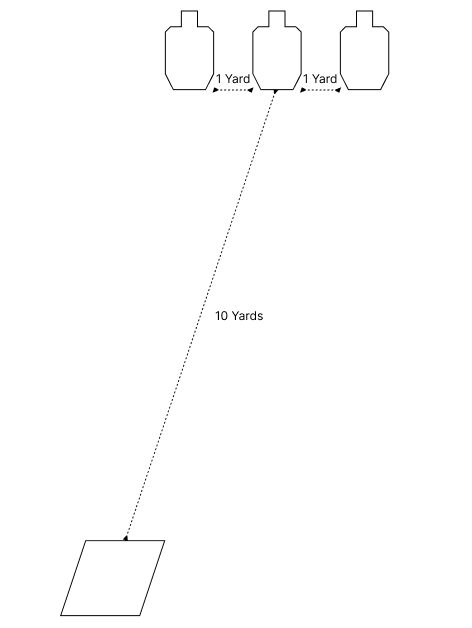 What is the El Presidente / El Prez Drill?
El Presidente (El Prez) is a classic practical pistol drill, great for live fire or dry fire. If you're active in the firearms training community, you've certainly heard of this drill and have likely shot it. The established standards act as a nice guide to determine how you stack up against the rest of the community.
El Prez works a nice range of handgun skills including the turn and draw, vision speed, recoil control, transitions, and the reload. All of which are fairly foundational skills for any practical pistol shooter – be it competition or self defense.
There are many variations of this drill that have popped up over the years, but they all involve a turn and draw, three targets with two shots, reload, and same three targets with two shots. The variations generally revolve around distances and accuracy standards.
Drill Tips
The turn and draw often slows people down. However, it is very possible for the turn and draw to be just a few tenths of a second behind a normal draw. The key to a fast turn and draw is to turn the head as fast as possible ahead of the body looking for the target. The sooner the eyes lock onto the target, the sooner the gun will follow.
Want to improve your transitions for El Prez? Try running the Blake Drill.
---
---
Drill Diagnostics
Strive to see the first target quickly. Do you have to hunt around to find the target? Or do your eyes lock on quickly to the center aiming point? Strive to get those eyes locked on target quickly – and not only locked on target, but locked on a small specific point on target.
---
---
Drill Author
Jeff Cooper
---
Don't know what drills to run to meet your goals?
Try out a virtual training call to talk with Brian about shooting goals, training methods, and drills to best meet those goals.
Drill Environment
More Drill Modifications
Modifications to focus on: Conceal Carry