Vision Progression
Improve vision speed to boost the accuracy and speed of transitions.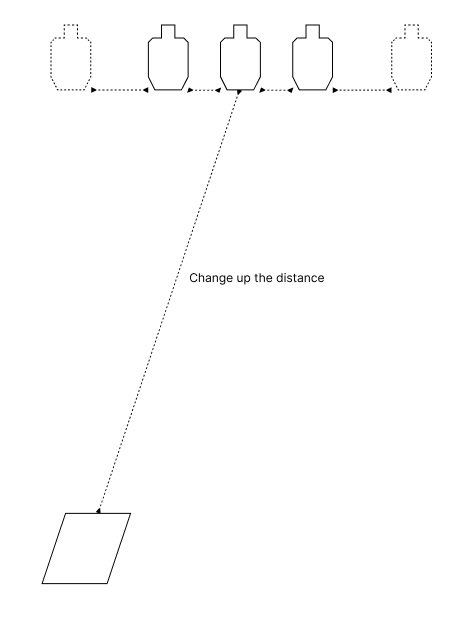 What is the Vision Progression Drill?
Vision speed and precision is a very important component of our actual shooting speed and precision. This drill works on boosting vision speed by isolating the vision component of the drill, and then slowly adding the non-eye movement parts of the drill.
It is much easier to work on improving what you visually process and how fast your eyes move when the eyes are the only thing you're worrying about.
Using target variety further helps by ensuring your eyes aren't memorizing a pre-planned route but actually "seeing" what is in front of you.
Drill Tips
The key for this drill is that it is run differently every time. We're trying to train our eyes to move quickly and precisely to each target and react based on whatever we're seeing. We don't want to program the same pattern, we want the eyes to react dynamically to what's in front of us. Drill modifications are especially important for this drill.
Change up the target difficulty. Include hard and easy targets.
Include steel and paper targets.
Include vision barriers.
Add in shooting on the move.
Start with eyes closed before the beep.
One shot per target or two shots per target.
---
---
Drill Diagnostics
This is a vision focused drill. Where your eyes move is the key part of the drill. Do your eyes move around to multiple points before fixating on the point of aim? Or do the eyes go straight to the specific aiming point on the target?
---
---
---
Don't know what drills to run to meet your goals?
Try out a virtual training call to talk with Brian about shooting goals, training methods, and drills to best meet those goals.
Drill Environment
More Drill Modifications
Modifications to focus on: Conceal Carry