Quick CCW Tune Up
A quick drill set to keep the conceal carry draw stroke consistent.
FREE Drill Set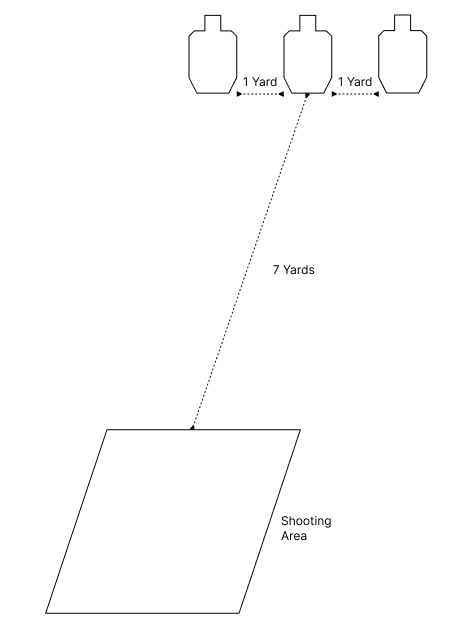 We all lead busy lives and everyone has different levels of commitment to training. But gun ownership is a responsibility as much as it is a right. If you decide to carry a gun out in public, you have the responsibility to achieve and maintain proficiency. Failure to be proficient with this self defense tool could result in the serious injury of death of yourself or people around you.
This drill set is intended to work some key skills for any conceal carrier – it's also super short so there's no excuse to not work it into a weekly routine.
Drill Set Modifications
Anytime you draw from the holster, don't perfectly square up on the target with the perfect stance. Rotate your body orientation in relation to the target and start the drills with your hands in different positions.
Defensive shooting involves a wide variety of starting positions related to the target. We don't get to get our perfect start position perfectly squared up on the target in a DGU! The more variety we have in practice the more prepared we'll be for any start position.
The Drill Set
Drill Steps:
At the beep, draw the gun
While drawing the gun, begin to prep the trigger. The goal is to have the trigger prepped just before the trigger breaks as the sights settle on target
Pause with the sights on target and the trigger prepped
Drill Modification
Take at least one step in any direction while drawing from the holster.
Drill Steps:
At the beep, draw and engage the target with two shots
Drill Steps:
At the beep, pull the trigger as quickly as possible and engage the target with two shots
Drill Steps:
At the beep, draw the gun using one hand. If using a cover garment, don't use the support hand to clear concealment.
Engage all three targets with two shots each.
When running the drill repeatedly, alternate clearing the target array from right to left and from left to right.
Drill Steps:
At the beep, urgently move laterally to the target (the priority is to start moving immediately)
While moving, draw the gun and engage the target with six rounds
Tips on Setting Up & Running a Drill Set
Questions about this drill set? The training site is new - questions and feedback are appreciated.
Shoot me a message via a contact form, Instagram, or Facebook.
Drill Environment
More Drill Modifications
Modifications to focus on: Conceal Carry