Trigger Reset at Speed
Improve trigger speed and quality for multiple shots.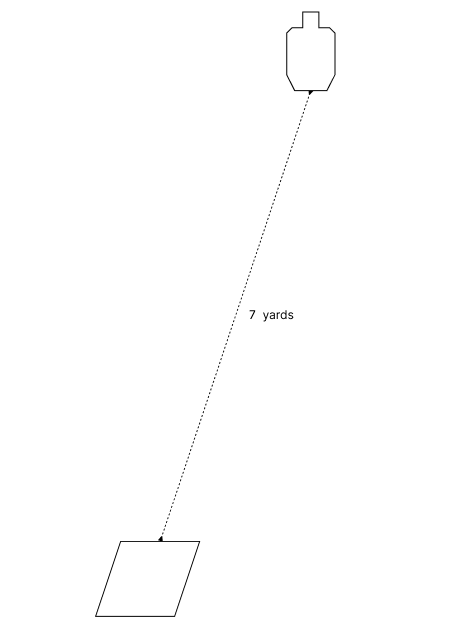 What is the Trigger Reset at Speed Drill?
Trigger Reset at Speed is essentially the continuation of the Trigger Control at Speed Drill. Many many shooters are incapable of pulling the trigger straight to the rear quickly without disturbing the sights. Obviously, that is a big problem. Pushing speed while maintaining accuracy is the cornerstone of practical pistol shooting.
The fastest way to get a second/third/fourth shot on target is to release the trigger and pull it again as fast as possible. Don't pin the trigger to the rear, slowly reset the trigger, and then pull it again. That is slow. The pin and reset technique adds extra steps and extra time to multiple shots. Extra time is bad since we're trying to shave off thousandths of a second off of our splits. Nothing is gained by slowing down that process.
Trigger Reset at Speed is a dry fire drill intended to help shooters push speed while maintaining that all important accuracy. It's super easy to run since all that is needed is a Par Timer with a randomized start to initiate a beep.
If accurate follow up shots are a problem, try running this drill for a few minutes at the beginning of every training session for a few weeks.
Note: I do not recommend running this drill in live fire. It is technically possible to do so, but it's too easy to have a negligent discharge and a live round adds little to nothing to the drill.
Video Explanation
---
---
Drill Tips
For most of dry fire, the hammer/striker doesn't need to fall and the trigger doesn't need to move. It is important for this drill though. To accomplish this, make sure the firearm is empty, pin the trigger to the rear, and rack the slide while keeping the trigger pinned. Start the randomized start beep, build the grip, and hold the sights on target waiting for the beep.
After taking the shot on this drill, be sure to instantly release the trigger. Don't pin the trigger to the rear after the shot as that will induce bad habits.
---
---
Drill Diagnostics
The "end all be all" of this drill is what happens to the sights. Pay super close attention to what the sights do. Doesn't matter if it's iron sights or a red dot. Do they stay still or do they bounce around? An ideal trigger pull would have the sights barely move. It would be nice if they literally didn't move at all, but we're mere mortals, not robots. The sights will move slightly, but the key is to minimize the movement of the sights as much as possible.
---
---
---
Don't know what drills to run to meet your goals?
Try out a virtual training call to talk with Brian about shooting goals, training methods, and drills to best meet those goals.
Drill Environment
More Drill Modifications
Modifications to focus on: Conceal Carry
Further Training with: