Trigger Prep
Improve the draw stroke speed, control, and confidence.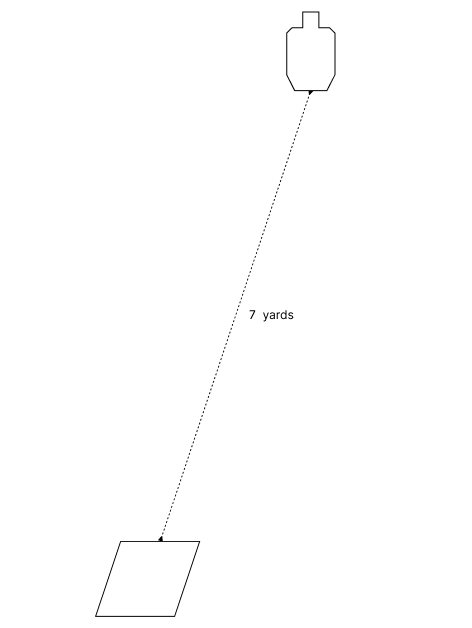 What is the Trigger Prep Drill?
The Trigger Prep drill is incredibly quick, simple, and easy. It is an ideal warm up drill to kick off a training session, for live fire or dry fire.
A fast and consistent draw stroke is critical for any handgun owner, but it is especially important for conceal carriers. A slow draw can create opportunity for the assailant, resulting in your death. A mistake on the draw can mean a missed shot, resulting in the death of a bystander. Remember, owning a firearm for self defense is an immense responsibility – one that should not be taken lightly.
A very useful skill is knowing exactly where the trigger pull will break the shot. Knowing this can help you prep the trigger before the shot to shoot "sooner." Trigger prep during recoil or during a transition can shave valuable time, providing an edge. The Trigger Prep drill helps you become intimately familiar with the length of pull on the trigger so you know exactly where the shot will break.
A single target at 10 yards is simply for par time standardization. It's also a good distance to ensure that the sights are stable on a just challenging enough target. It is encourage to perform this drill at a wide variety of target difficulties and target types.
Drill Tips
When just starting out on this drill, it is perfectly fine to accidentally break the trigger. In fact, if you're just learning where your trigger breaks and you're not breaking the trigger during the trigger pull, it means you're not pulling the trigger close enough to the edge of the break.
---
---
Drill Diagnostics
At the end of the draw stroke, pay close attention to where the sights stop. Do they stop right at the desired aiming point? Do they bounce as the sights stop? Or do you have to align the sights or find the red dot? Do you have to move the sights to where you intended to aim? Try to ensure the sights smoothly stop at the desired point of aim.
---
---
Drill Author/Popularizer
---
Don't know what drills to run to meet your goals?
Try out a virtual training call to talk with Brian about shooting goals, training methods, and drills to best meet those goals.
Drill Environment
More Drill Modifications
Modifications to focus on: Conceal Carry