Split Bill Drill
Improve transitions by engaging multiple targets as if it were a single target.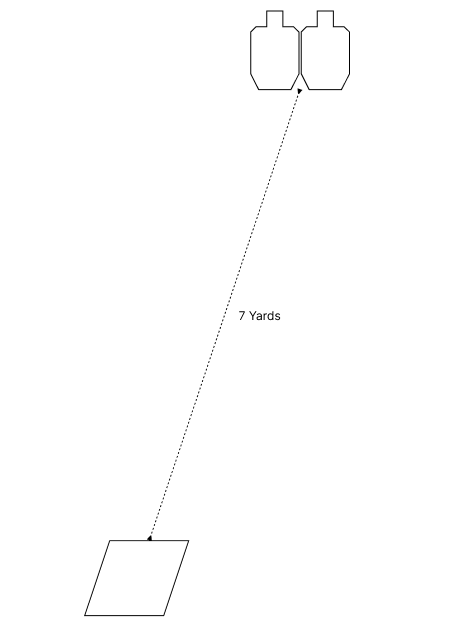 What is the Split Bill Drill?
The Bill Drill is a very popular drill, for good reason. It requires excellent accuracy at speed and punishes sloppy gun handling. The Blake Drill is an excellent drill building on the Bill Drill, pushing six shots across three targets with the goal of maintaining a similar time.
The Split Bill Drill enters the picture between those two drills.
The goal of the Split Bill Drill is to maintain even splits across all six shots as if it were a Bill Drill – ideally at the exact same speed of a true Bill Drill. (just like with the Blake Drill)
But the Split Bill Drill simplifies things a smidge by only using one transition. This makes it good for warming up transitions, while pushing harder and harder.
Drill Tips
Fast transitions require leading the gun with the eyes – doesn't matter if it is a narrow transition or a wide transition. When the third shot breaks on the first target, don't let the eye hang out and take a fourth sight picture on the same target. Staring at the already engaged target doesn't speed things up. Move the eyes onto the next target and the gun will follow.
---
---
Drill Diagnostics
Beware under travel and over travel. Watch the sights as they enter onto the target. Does the shot break too early and hit on the inside of the target? What about transitioning too aggressively and carrying the sights past the target onto the outside? Move the gun fast, but only just far enough.
---
---
Drill Author
Questions about this drill? The training site is new - questions and feedback are appreciated.
Shoot me a message via a contact form, Instagram, or Facebook.
Drill Environment
More Drill Modifications
Modifications to focus on: Conceal Carry
Further Training with: