Blending Positions
Flow through positions while shooting on the move.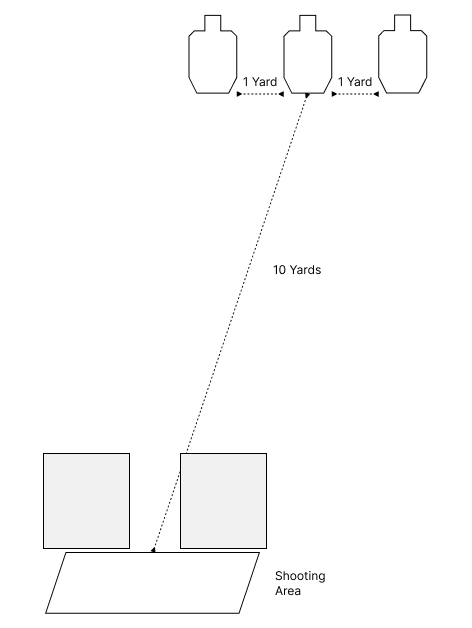 What is the Blending Positions Drill?
Shooting on the move is generally seen as walking while shooting targets. But it is also possible to shoot targets on the move while both feet are firmly planted – simply shift the body weight from one side to the other.
This form of shooting on the move is situational and doesn't make big steps of movement, but it does help preserve or generate momentum, allowing shooters to shoot sooner and leave sooner.
This planted form of shooting on the move allows to still be moving while taking hard shots.
Drill Tips
Take a wide stance to create extra stability while shifting your weight through the position. Keep your weight slowly shifting from one side to the other. By the time you engage the last target, your weight should be leaning in the direction of your exit. The weight shifting means you're moving the entire time, even though your feet remain planted. That weight shift makes it easy to accelerate quickly in that direction.
Having more room to move into position helps you practice controlling your entry from high speeds into position. The ability to go from a high speed run to a planted position taking controlled shots is a very powerful skill.
Similarly, having more room to run out of position helps you practice controlling your shooting as you exit and then accelerate into a full run. Having the space to practice that is well worth exploiting if you can.
---
---
Drill Diagnostics
Pay attention to how quick and precise the gun gets on target after spotting it. Ideally the gun will be ready to fire and you can take the first shot just as the feet are finished firmly planting, or maybe just a few tenths of a second after that.
---
---
---
Don't know what drills to run to meet your goals?
Try out a virtual training call to talk with Brian about shooting goals, training methods, and drills to best meet those goals.
Drill Environment
More Drill Modifications
Modifications to focus on: Conceal Carry